<![if !vml]>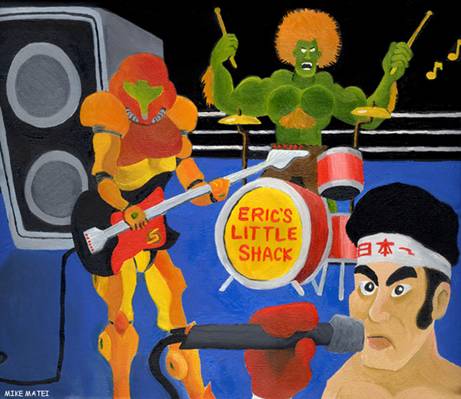 <![endif]>
Welcome to Eric's Little Shack.
Welcome to our website.  Eric's Little Shack features two gentlemen from California: Bobby, who does most of the vocals, and Eric, who does the majority of the Nintendo playing. Eric and Bobby became friends during pre-school, have enjoyed playing music together since they were kids, and in 2003, discovered DIY audio recording. The rest is undocumented history.
This price of gasoline in California has reached a whopping
dollars/gal.
<![if !vml]>

<![endif]>
Video Game Covers
Theme Songs, Oldies, and Various Covers
Les Miserables: "Castle on a Cloud"
Beach Boys - "Don't Worry Baby"
Paul Simon / Cyrkle - "Red Rubber Ball"
Belinda Carlisle: "Heaven is a Place on Earth"
Bobby Vee - "Take Good Care of My Baby"
The Little Mermaid: "Part of Your World"
FAQ:
Q: When are you guys going to record more songs??!!
A: Right…about…soon-ish.
Q: What happened to your message board??!!
A: We've removed the link from this website. Things were getting gross... Some people need better morals. Come on, parents out there, do your job.